Resort Amenities
---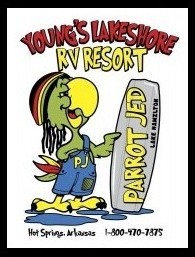 Our new, "Cottage for 2" in Hot Springs, Ar. is ready for Holiday reservations & it's just 2.5 miles from Oaklawn Racing and Gaming Center. Our new Cottage is comfy cozy with a Queen size bed + Futon in the living room/kitchen area. Bring your own sheets pillows, blanket & towels. Also 79 ch. Cbl. TV including the SEC Network and 6 other all sports channels. Sit on the deck overlooking Stokes Creek at it's point of entry into Lake Hamilton. $90.00+tax  2 people
Call 9am-5pm 1-800-470-7875 for Reservations.Young's Lakeshore RV Resort offering all the great amenities of city camping and located near all of the "Spa Citys" popular destinations in and around Hot Springs, Arkansas
50 Amp Service, Sewer and Water
Pull thru RV sites
Free Private Lake Hamilton Boat Ramp 
Free 79 Channel Cable Television 
Free Wifi
In Resort Propane service  

Boat Ramp

 
Call 1-800-470-7875 or 1-501-767-7946
Our RV sites and Tenting area are open year around
How about our New "Community BBQ Pit" we will fire up the Community Pit every "Friday night at 5PM till 7PM or when ever the coals burn out. We will be using real charcoal so you will get that charcoal grilled taste we all miss soo much. Our camping guest should just, B.Y.O.M. bring your own meat, steaks, hamburgers, hot dog's or even some of those fancy veggies on a stick. Take your cooked meat back to your camper or bring your side dishes and join the gang at our big pavillion tables. No more hawling the grill around.
Resort quiet time 10:30PM-7:30AM
PET RULES
2012 a bit of liberlizing of pet rules from past years. Now pet's can be out "only if" you are out with them. Pets must be on leash at all times while outside.
 NO PETS LEASHED OR KENNELED OUTSIDE at your RV site without owner being outside with pet. If owner is in his RV pet must be inside no exceptions. 
Pet Kennels available near Resort.
When walking your pet it must be leashed and you must pick up after you pet.
The designated walking areas are behind the pavilion on the grass, down by the lake on the grassy area and across the street in the field.
Do not walk your pets in RV sites  
Please pick up after pets
 Pets must not bark to the distraction of your neighbor. If your dog's barking can be heard by your neighbor please find a way to get it stopped. Some dogs only bark when left alone. We will inform you if this is the case.