Rates
Starting January 2017 we have raised the bar for monthly RV qualifications.
No add on A/C units no faded decals dented cracked or broken damaged outer RV shell damage. Camper must be clean and in good repair.
---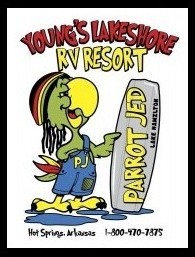 Overnight RV sites at $41.80  tax included up to 4 people
We honor all discount & club cards on Overnight Camping 10% Off
Seniors, Veterans, Active Military Overnight Camping 10% off
Weekly take 10% off of the overnight rates
full service including water/sewer 30&50 Free Wi/Fi
*Monthly rates; the base rate for "2 people "30 amp. $475.00
*on monthly 
each person over first two monthly(regardless of age) add $50.00 a month ea. over first two.  
 We also offer tent sites $27.50  tax included per tent per night up to 4 people. Take a Google Map look at our lake points so you will know the type of tent camping we have. The good news it comes with free Wi/Fi and it is not a (WOODSY AREA) as we are located in Hot Springs, Arkansas city limits. 
Call for details and reservations 1-800-470-7875