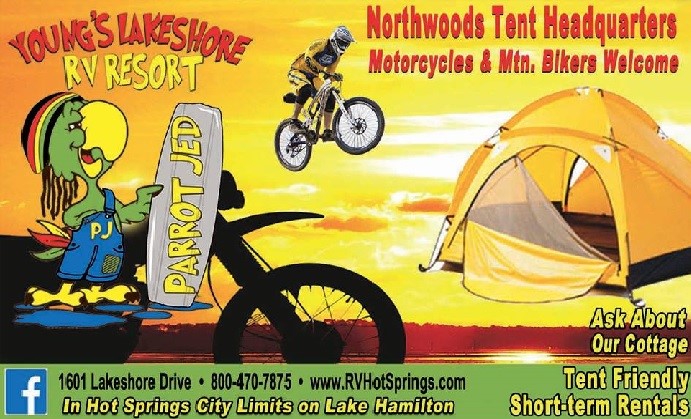 Free shuttle 5 pm on Thursday-Saturdays to
Bubba Brews" microbrewery on Lake Hamilton 
>See our Deposit policy below<
Tent sites $27.50  tax included
"per tent per night up to 4 people", 7 day limit on tent stays
Overnight RV sites

at $43.51 

tax included

 City Water/sewer/ 50/30 amp Wi/Fi and 20 channels TV all included in base rate up to 4 people
We honor all discount & club cards on Overnight Camping 10% Off
Seniors, Veterans, Active Military Overnight Camping 10% off
Weekly take 10% off of the overnight rates
full service including water/sewer 30&50 Free Wi/Fi
*Monthly rates sites 1-31-41&42 base rate for "2 people "30 amp. $500.00
Monthly sites 32-38 (near lake sites) 30amp & 50amp add $75.00
*monthly each person over first two people (regardless of age) add $75.00 a month for each person over the first two.
Monthly RV sites 32-38 add $25.00 to the above rate per month. 
            We do not supply picnic tables to our monthly RV sites.    
Take a look at Google  Earth Map so you will know we are in an urban area. 
free wi/fi & 20 channels HD TV 
 COTTAGE
$90.00 + tax for 2 people  "Cottage on the Creek", The 2 person Micro 400sq. ft. The cottage is just right for 2 people just 2.5 miles from Oaklawn Racing and Gaming Center. Our Cottage is comfy cozy with a Queen size bed+ a futon in the living room/ full kitchen & 3/4 bath (walk-in shower), TV/DVD. Sit on the deck overlooking Stokes Creek at its point of entry into Lake Hamilton. Our full-service RV sites are also open all year long.  call 1-800-470-7875 for Reservations.
no pet's please, great kennels nearby> 
>Overnight Tent or RV one-day Non-Refundable deposit
>Monthly reservation $100.00 non-refundable
>Cottage on the creek 1 Night Non-refundable required
Call for details and reservations 1-800-470-7875